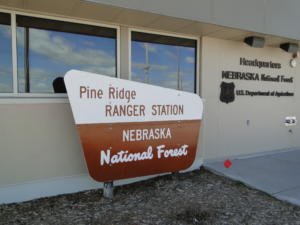 WIDE OPEN UNDEVELOPED SPACES
Welcome to the Nebraska National Forests and Grasslands (NNFG) where you can enjoy wide open spaces and engage in a variety of recreational pursuits. Two national forests and three national grasslands provide access to public lands in Nebraska and South Dakota. Roads, campgrounds, picnic areas, trailheads, and other visitor facilities are entry points into expansive natural landscapes. Opportunities for solitude and adventure abound.
NNFG is a major destination for outdoor enthusiasts who enjoy hunting, fishing, birding, rock hounding, hiking, horseback riding, OHV riding, and/or many other motorized and non-motorized activities.  Our campgrounds and facilities are conveniently located for travelers continuing on to other destinations or enjoying extended visits to nearby national parks and attractions.
NNFG manages approximately one million acres of noncontiguous public land across both the central and western portions of Nebraska and South Dakota. From southwestern South Dakota to the Missouri River, and northwestern Nebraska to the central Sandhills, there are expanses of uninterrupted terrain, characteristic of the Great Plains. The landscapes vary from rugged badlands, to vast rolling prairie, to pine forested hills, ridges, and river valleys.
Black Hills Parks & Forests Association operates retail outlets in the following Nebraska National Forest Locations:
Nebraska National Forests & Oglala National Grassland
Forest Supervisor's Office & Pine Ridge Ranger District
125 N Main St
Chadron, NE 69337
308-432-0300
Hudson-Meng Education and Research Center
1811 Meng Dr
Crawford, NE
308-665-3900
Schedule a private tour contact: Ryan Means 308-432-0392
Nebraska & Samuel R. McKelvie National Forests
Bessey Ranger District/Charles E Bessey Tree Nursery
40637 River Loop Rd
Halsey, NE 69142
Buffalo Gap National Grasslands
Fall River Ranger District (WEST)
1801 Highway 18 Bypass
Hot Springs, SD 57747
605-745-4107
Wall Ranger District (EAST)
710 Main St
Wall, SD 57790
605-279-2126
Fort Pierre National Grassland
Fort Pierre Ranger District
1020 North Deadwood St
Fort Pierre, SD 57532