Join BHPFA as we celebrate our 75th Anniversary Year with our first virtual hike challenge!
About the Challenge:
This year BHPFA is hosting a fundraiser to help support our non-profit mission. We pride ourselves on supporting our public land partners through Education, Interpretation, and Conservation, but in order to keep doing that we need your help! Join us and public land supporters from around the country through our Virtual Hiking Challenge! Hike 128 miles*  anywhere and any way you choose! Each time you hike, bike, swim, etc. you'll advance along your journey on the Centennial Trail! Marking the 100th anniversary of statehood, we believe that The Centennial Trail perfectly represents the diversity of public lands in South Dakota with its ever-changing landscape and beautiful views. Celebrate your achievement by choosing between a stunning, limited edition finisher's medal or T-shirt!
*Due to trail changes the distance of the Centennial Trail was updated from 111 to 128 miles in April of 2021.
Remember, wherever you choose to travel, tread responsibly and protect the environment you enjoy!
How to participate:
The cost to register is $25 for members and $55 for non-members
After registering you can choose to create your login with Challenge Hound. This is where you can track your miles, upload photos, and share your experiences with other hikers!
Tag us in your social media using the #centennialtrailchallege21 or tag us @blackhillsparksnforests 
When:
The event runs from Memorial Day, May 31, 2021, to Labor Day, September 6, 2021. Miles cannot be recorded until May 31, 2021. 
Where:
Anywhere! You don't need to physically hike the South Dakota Centennial Trail. Hike your favorite trail, run laps around your neighborhood, swim laps at the city pool, bike to the grocery store!  There are many ways to earn miles, as long as it's self-supported and non-motorized.  We want to celebrate physical activity, spending time outside, and exploring public lands!
What you get:
Choose between a medal or a high-quality, tri-blend t-shirt.
Also included is access to our member hub, swag bag from local sponsors, and a complimentary membership for non-members
Examples coming soon- both will have the bison logo: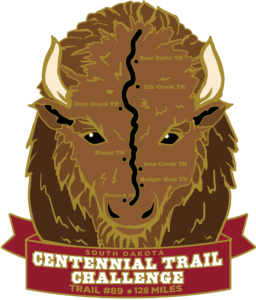 Questions?
Check out our Frequently Asked Question Page
or contact us at bhpf@blackhillsparks.org (605)745-7020
Proudly Sponsored By: