By Marcus Heerdt/Fall River County Herald-Star
WIND CAVE NATIONAL PARK – Western South Dakota artist Jim Yellowhawk's original artwork titled "Maka Oniye" is on permanent display inside the visitor center at Wind Cave after the piece was installed in early September of this year.
"It is an honor to have my artwork at Wind Cave," said Yellowhawk. "I think it's a perfect place for it. Wind Cave is a powerful place for our people and is the location of our origin story. I hope my art can show people that this is a very sacred place and help visitors understand the history of it."
Yellowhawk grew up on the Cheyenne River Reservation in west-central South Dakota and is an enrolled member of the Itazipco (Sans Arc) band of the Cheyenne River Sioux Tribe. His given Lakota name is Tawoihamble Kpago, or "One Who Marks His Dreams."
Yellowhawk said that he was immersed in the arts at a very young age, as his father is a painter and his grandmother was a traditional beadworker.
"I started painting and drawing as a child and by high school I knew I wanted to be a full-time artist," Yellowhawk said. "And that is what I do now."
After high school, Yellowhawk attended Marion College in Indiana and graduated with a degree in art. He also studied at the Columbus College of Art & Design in Ohio.
Yellowhawk said that he had the idea for Maka Oniye for a long time, and it took him about three weeks to complete.
Yellowhawk's son, Gabe, who works at Pipestone National Monument in Pipestone, Minn., was temporarily working at Wind Cave and mentioned his father's artwork to park staff. Funds were then acquired to purchase the mixed media piece Maka Oniye.
Maka Oniye translates to "breathing earth" in the Lakota language, which is in reference to Wind Cave and its natural entrance, as well as the Lakota origin story.
Referring to the artwork, Yellowhawk said that the center of the painting represents the realm where his ancestors (Pte Oyate, or Buffalo Nation), lived and waited until the earth was being prepared. The sparkling background of the centerpiece depicts the spirit world.
Yellowhawk explained that the seven tipis surrounding the center represent the seven Lakota virtues: compassion, honesty, generosity, humility, wisdom, respect, and prayer. The outer circle illustrates how humans merged and joined the Buffalo Nation on the surface, where "we came together as relatives."
Funding for Maka Oniye was provided by the Black Hills Parks and Forests Association (BHPFA), a non-profit partner of Wind Cave National Park.
"We support having native artwork at the park as a cultural awareness opportunity and are happy to support any way we can," said BHPFA Executive Director Patty Ressler.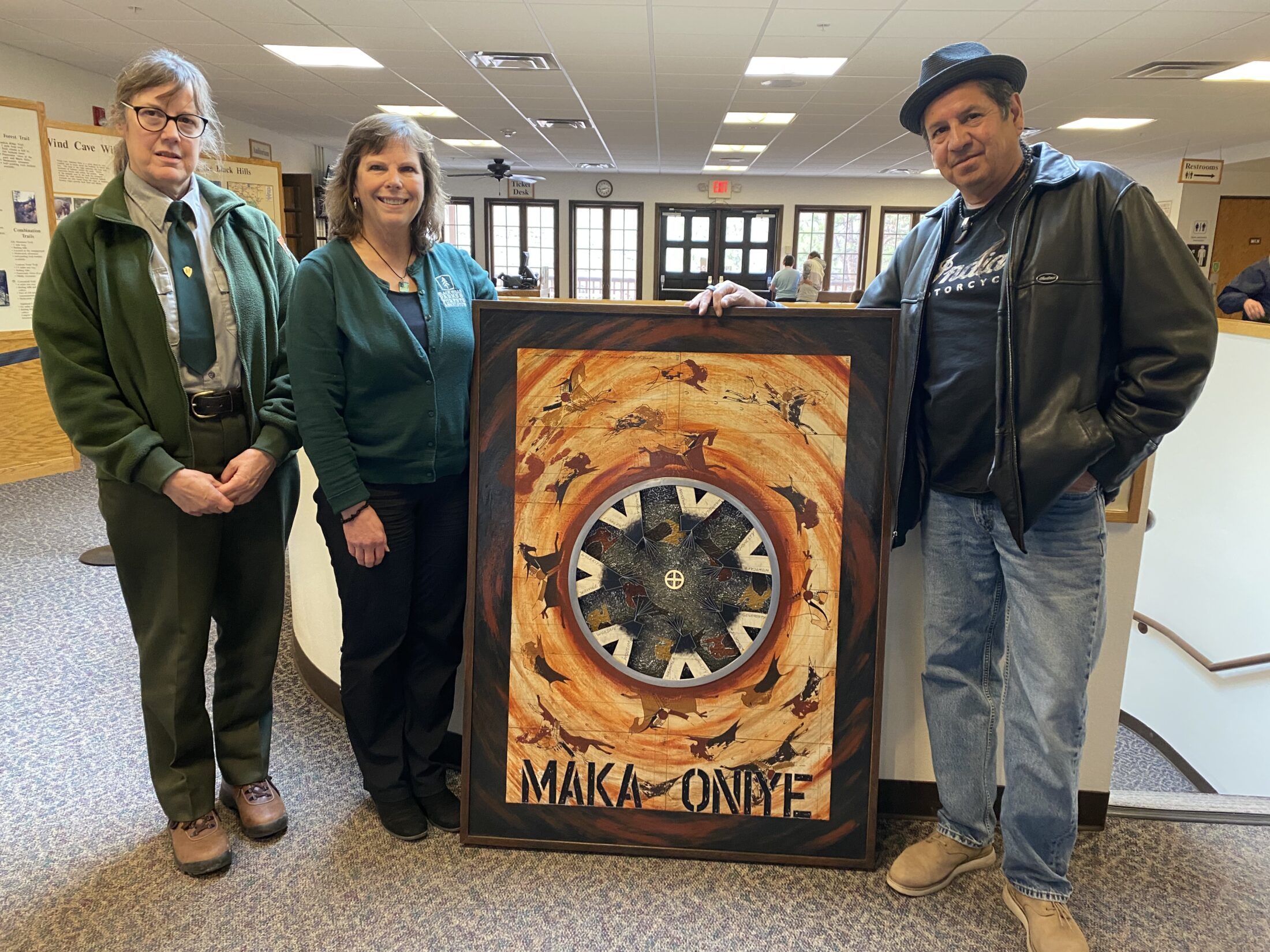 Caption: L-R Wind Cave National Park Superintendent Leigh Welling, Black Hills Parks and Forests Association Executive Director Patty Ressler, and artist Jim Yellowhawk stand next to Yellowhawk's artwork titled "Maka Oniye."