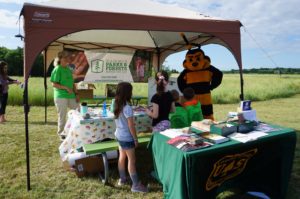 Volunteer Opportunities with BHPFA
If you are interested in volunteering please fill out the application and email it to bhpf@blackhillsparks.org
Current volunteer opportunities available:
Provide friendly, informative visitor services at selected locations including points of interest and popular trailheads
Provide information that helps build awareness around responsible public land use, Parks and Forests' recreation rules, and the importance of wildlife habitat.
Provide useful information about trail access, trail routes, directions, and any other questions about visiting area public lands.
To become a Parks and Forests Ambassador it is required to attend the volunteer training and sign a volunteer waiver.
BHPFA is currently looking for volunteers to help at Wind Cave National Park and Pactola Visitor Center in Black Hills National Forest for the summer 2022
Wind Cave National Park Summer Opportunities
Support for ranger lead hikes

Sanson Ranch Day Hikes

June-August, Tuesdays, Thursdays, and Saturdays 9am-12pm
Volunteer will act as hike sweep (last hiker) and help create a safe and welcoming atmosphere
Act as sweep for caravan sweep from visitor center to the site and assist with locking and opening gates

Night Hikes

June-August, Wednesday evenings, time TBD
Volunteer will act as hike sweep (last hiker) and help create a safe and welcoming atmosphere
For hikes later in the summer (July/August) support ranger in setting up and managing a telescope

Solar scope

Set up Wind Cave's solar scope on the visitor center lawn during busy times of the day
Show visitors how to safely view the sun through scope
Share interesting facts and discussion with visitors
Days and times flexible
Training is required (~1hr) Flexible dates and times
South Dakota Master Naturalist Volunteer Training: Learn more here
The South Dakota Master Naturalist Program is an adult conservation and environmental education program that combines indoor presentations and hands-on field experiences to teach conservation volunteers about South Dakota's natural resources. Certified Master Naturalists are dedicated natural resource conservation volunteers who provide volunteer service through a variety of skill sets.
If you would like to learn about other ways to volunteer, please reach out to Andrea at bhpf@blackhillsparks.org, we would love to hear from you!