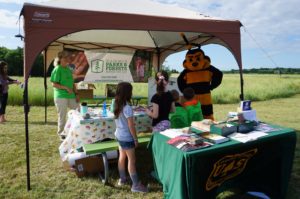 Volunteer Opportunities with BHPFA
If you are interested in volunteering please fill out the application and email it to bhpf@blackhillsparks.org
*For an editable version be sure to open it in Adobe Acrobat
Parks and Forests Ambassadors: Full job description
Serve as a friendly, informative welcome committee at selected locations including points of interest and popular trailheads
Provide information that helps build awareness around responsible public land use, Parks and Forests' recreation rules, and the importance of wildlife habitat.
Provide useful information about trail access, trail routes, and directions, and any other questions about visiting area public lands.
To become a Parks and Forests Ambassador it is required to attend the volunteer training and sign a volunteer waiver.
South Dakota Master Naturalist: Learn more here
The South Dakota Master Naturalist Program is an adult conservation and environmental education program that combines indoor presentations and hands-on field experiences to teach conservation volunteers about South Dakota's natural resources. Certified Master Naturalists are dedicated natural resource conservation volunteers who provide volunteer service through a variety of skill sets.