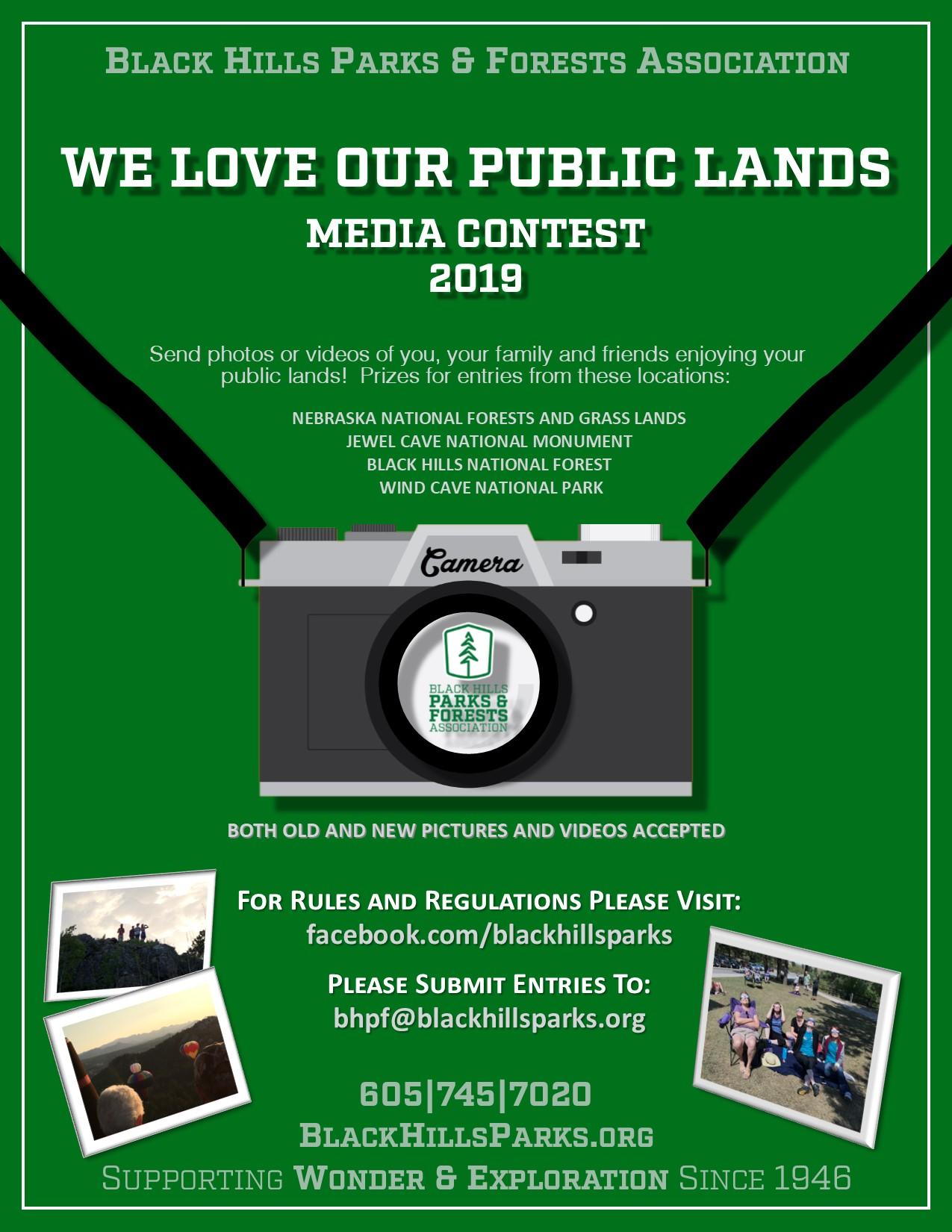 We are so fortunate in the Black Hills and surrounding areas to have an abundance of public lands for recreation and education. As a non-profit public land partner, Black Hills Parks & Forests Association (BHPFA) is looking for photos and video of visitors enjoying the beauty and benefits our public lands offer. Whether you are hiking in Wind Cave National Park, fishing or boating at Pactola Lake, or learning about ancient species at Hudson Meng Education and Research Center, please share your experiences!
Check Out The Contest Facebook Page!
Contest Rules & Regulations
1. Photographs and videos will be accepted.
2. Entries must be the original work of the person/persons submitting the photo(s) and/or video(s) and must show a person or people enjoying public lands.
3. Entrant must have permission from all parties in the photo or video for contest submission.
4. Entries must be submitted by email to bhpf@blackhillsparks.org. If the file is too large, use the contact information to secure a Dropbox entry option.
5. Photos and video must be at least 300 dpi.
6. Entry categories include:
a) Black Hills National Forest
b) Wind Cave National Park
c) Jewel Cave National Monument
d) Nebraska National Forests & Grasslands
7. Each photo entry must contain the following information:
a) Title of photograph
b) Name of photographer (first and last)
c) Date and location of photograph or video
d) A short (1-3 sentences) description of the photograph or video
e) Entry category – see list above
f) Entrant's contact information (telephone number, e-mail address)
8. Entrants may submit as many photographs and/or videos as they would like.
9. A prize will be awarded for each category plus an overall People's Choice winner will be selected. Prizes will be announced at the time winners are chosen.
10. Category entries will be judged by a distinguished panel.
11. People's Choice award will be voted on by the BHPFA community.
12. Winners will be announced in mid-May.
13. During the course of the contest, entry photos and videos will be displayed via social media.
14. Winning entries in each category will be displayed at their respective public land visitor centers.
15. Entries may not contain the following:
a) alcohol
b) drugs
c) any illegal or inappropriate behavior
      Entries containing any inappropriate material or behavior will be disqualified.
16. By submitting a photo, entrants are agreeing to:
a) Grant Black Hills Parks and Forest Association (BHPFA) the absolute and irrevocable right and permission to use, re-use, publish, and re-publish the photographs in any capacity deemed legitimate by BHPFA.
b) This includes BHPFA printed and electronic publications and in conjunction with any copyrighted matter, in any and all media now or hereafter known for illustration, promotion, art, advertising and trade, news, informational and educational purposes and to copyright the same, under its original name or otherwise.
c) The entrant thereby releases and discharges BHPFA from any and all claims and demands arising out of or in connection with the use of the photos and videos, including without limitation any and all claims for invasion of privacy.
17. Deadline for entries: April 25, 2019