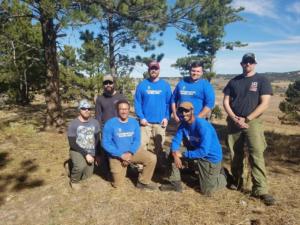 Veterans and active military personnel continue to serve USA  
 Chadron, October 24, 2017 – Five military veterans and one current member of the US Army Reserve have been working on both the Pine Ridge Ranger District near Chadron and the Bessey Nursery near Halsey to further conservation and sustainability on the Nebraska National Forests and Grasslands, (NNFG).
These dedicated military folks are working on the NNFG through a US Forest Service, (USFS) partnership with the Student Conservation Association (SCA), and continue to serve the their country by working on forest protection and restoration projects.
For more than 50 years the USFS and SCA partnership commits to equipping a new generation to know, love and care for our nation's forests.  The members have a positive impact by bringing conservation values and sustainable practices to projects on natural forests across the country. Among their joint initiatives, SCA and the USFS manage the Veterans Fire Corps, which provides recent-era military vets with career training in wildfire mitigation and forestry while easing their transition back to civilian life.
The SCA six-man crew, three US Marine Corps and three US Army veterans, strive to develop skills that may lead to a career as wildland firefighters or others that allow them to work outdoors, rather than "behind a computer all day." To begin their assignment on the NNFG, they completed required courses to receive firefighting qualifications. During their tour, work completed further developed firefighting-related skills, such as chain saw work, prescribed burn preparation, digging line and thinning.
While on the Bessey Nursery they cut more than 150 trees in heavily timbered ground of more than an acre. Since coming to the Pine Ridge Ranger District, they completed important wildlife habitat improvement and preparation for hazardous fuel reduction projects, which will enhance public safety efforts already in progress.
Kevin Atchley, NNFG Forest Supervisor said, "We are pleased to have been able to give these fine veterans the training and introduction to skills needed to support their pursuit of a career in fire management, conservation and sustainability. While on the NNFG, this crew accomplished an amazing amount of important work in a short period of time. I know all of our forest leadership team members join me in thanking the crew for their outstanding efforts. While I would want each of them to pursue a career in the US Forest Service, all of them will add tremendous value to any organization they wish to join."
The Student Conservation Association, a national nonprofit working since 1957 to build new generations of conservation leaders, is currently recruiting for additional Veterans Fire Corps in forests in your region, and around the country. For more information or to apply, contact Program Manager Emily Palmer at epalmer@thesca.org or 412-325-1851 x 3061.
Cydney D. Janssen
Public Affairs Officer
Nebraska National Forests & National Grasslands
125 N. Main Street
Chadron, NE 69337
Ph:   308-432-0326
Cell: 308-360-2976