Smokey Bear Clothing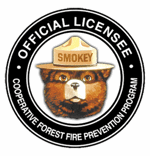 Great looking officially licensed Smokey Bear clothing and accessories!
Smokey bear is an American icon and has been promoting fire prevention for over 60 years. Join his team as a portion of proceeds from the sale of these items is used in Smokey's ongoing efforts to protect our forest friends and promote fire prevention.
Showing all 4 results