Give a gift to Public Lands! You MAKE a difference!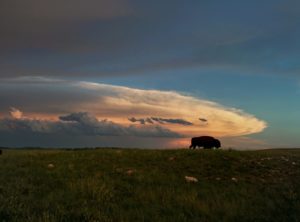 Black Hills Parks and Forests Association provides key funding to our public land partners. This funding helps alleviate budgetary shortfalls and enables the dedicated public servants to extend more educational and recreational opportunities to more people than they otherwise would be able to. We cant do this all by ourselves, our donors make it possible to fill in the gaps left by federal funding. If you would like to learn more about how BHPFA supporters assist our partners, consider becoming an annual member or giving a monthly donation.
Sue Shreves Memorial
Sue Ellen Shreves was a tireless proponent for Wind Cave National Park. She lived on the edge of the park and worked for Black Hills Parks & Forests for many years, helping strengthen and grow the organization. Thank you for supporting Sue's memory. Donations to this account will be used for operating expenses.
There are many ways to give back:
1. Leave extra change or bills in donation boxes or round up your cash or credit card purchase at our retail locations.
2. Adoption programs – Adopt-a-Bison at Wind Cave National Park and $20 of the adoption fee goes directly to bison herd management. The new Adopt-a-Bat program assists the research of White Nose Syndrome with a $20 donation to Jewel Cave National Monument.
3. Make a Gift – Consider supporting our Partners individually with a gift.
Donate a specific amount for a designated partner or program.
4. Become a member with us: Click here to learn more about member benefits!
5. Give the gift of time-Become a volunteer with BHPFA: Learn more here!
6. Donate now! Use the form below to leave a donation for BHPFA.
What donors say:
"The Black Hills are an iconic example of what we need to protect for future generations. But the Black Hills are even better because it offers so much more than just wilderness and wildlife. The numerous natural and historic sites in the Black Hills are a true asset to the world. Being someone that grew up in the region and moved away, I recognize more than ever the value and importance of the Black Hills region. My special place is sitting at Devil's Tower looking out over the Belle Fourche river valley listening to the wind through the trees and the smell of pine in the air.
There's something very special about these types of places. It's understandable why the Native American's have always revered these locations. We owe it to ourselves and future generations to do everything we can to protect and promote the nature experiences available in the Black Hills. I've enjoyed greatly the opportunity to share the many experiences in the Black Hills with my own children. We have a passion for caves and with so many wonderful caves available in the Black Hills, one of the highest concentrations of developed caves in the world, that we can't help but make our way back over and over again. The accessibility to such wonderful experiences, landmarks and fantastic history is such a unique opportunity for us all.
I'm proud to be able to do my part to help support the BHPFA to help ensure these priceless treasures are protected for everyone, forever!"
-Justin