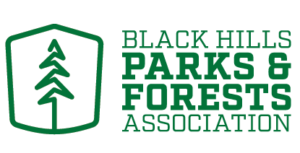 Annual Member Benefits-
Free BHPFA bag and gift
15% discount at all BHPFA retail store locations – card required
15% discount on all online purchases – coupon code required at checkout
Electronic Newsletter 4 times per year – Learn about the impacts of your membership!
Receive discounts at Cooperating Association stores across the country. More information: http://www.publiclandsalliance.org/membership/rdp
Member only specials & discounts throughout the year.
What our members say:
I am a member of BHPFA because nature is a natural healer and stress reliever. When we are able to spend time in the Black Hills, we are able to unwind and relax while taking in the beautiful sites and smells of pine trees. I want to preserve these areas for all to enjoy as our public lands are just that – for everyone to enjoy. And I want to help preserve it for future generations to enjoy.  – Nicole
This is a great way to support the Black Hills Parks and Forest. Thank you for giving back to our local National Parks. Thank all of you that work in the gift shops. – Mark A. Weaver
If you ever visit the Black Hills of Dakota, a membership in the association is warranted. The discount on products is worthwhile and you support the objectives of the regions parks, federal and state. – Jan Gabin