Rapid City, S.D., June 2, 2021— The Black Hills National Forest announces the Moon Walk interpretive program schedule for the 2021 season. In its 26th year, Forest visitors will explore the importance of caves & karst systems, beavers, learn about the stars in the night sky, and nocturnal animal adaptations. The focus this year is to expand visitor awareness beyond the boundaries of the Forest.
Speakers include The National Speleological Society, The Nature Conservancy, Black Hills Parks & Forests Association, and the Black Hills National Forest. Moon Walks are held on a Saturday night close to the official full moon and begin at 7:00 PM. Most programs last for 1-2 hours, and visitors walk an average of 1-mile round trip. As each Moon Walk nears, specific directions to individual programs will be posted on the Black Hills National Forest website at http://www.fs.usda.gov/blackhills or call (605) 673-9200.
2021 Moon Walk Schedule – (Flyer – Front & Back)
June 26 – Black Hills Caves & Karst Systems
Presented by Adam Weaver, Vice President, National Speleological Society
The Black Hills area is among the most significant and unique karst environments in the world! Learn about specific interactions that caves, water resources, and changing geologic layers have in western South Dakota. You will also learn about local and national cave conservation efforts. Please join us for this walk, as we celebrate 'The International Year of Caves & Karsts'.
7:00 PM – Hell Canyon Trailhead, U.S. Hwy 16, west of Jewel Cave National Monument, SD
July 24 – Eager Beavers: Restoring Black Hills Steams One Stick At A Time
Presented by Corissa Busse, The Nature Conservancy
Learn about the power and future potential of stream restoration in the Black Hills area, the effects of this work across western South Dakota, and the role of beavers in this effort.
August 21 – Introduction to the Night Sky
Presented by Bradley Block, Recreation Program Manager, Black Hills National Forest
Learn how to identify some common constellations and listen to stories about various star clusters. If you are looking for ways to engage your family on future campouts, especially after dark, this outdoor activity will inspire star gazing beginners.
7:00 PM – Sundance Horse Camp, County Road 123, 2 miles north of Sundance, WY
September 18 – Nocturnal Animal Adaptations
Presented by Jennifer Fowler & Julie Brazell, Black Hills Parks & Forests Association
Learn how and why animals are able to see, hunt, and travel around in the dark forest at night.
7:00 PM – Big Hill Trailhead, County Road 134 (Tinton Rd), 12 miles south of Spearfish, SD
For more information on the Black Hills National Forest, call (605) 673-9200, visit http://www.fs.usda.gov/blackhills or download the Free Forest phone app at: https://itunes.apple.com/us/app/black-hills-national-forest/id1156230107?mt=8 (Apple) or https://play.google.com/store/apps/details?id=gov.usda.fs.nf.blackhills (Android)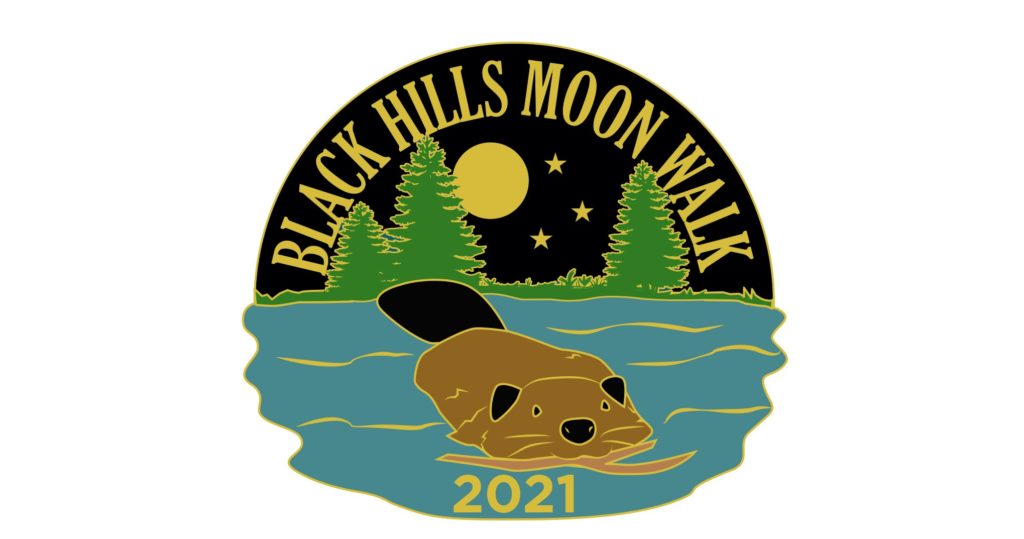 The 2021 Moon Walk Pin Design. At every Moon Walk, BHPFA will sell the collectors pin for $5, cash only