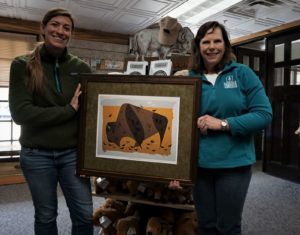 Since launching in 2018, Black Hills Parks & Forests Association (BHPFA)'s Adopt-A-Bison program has been greatly successful. They have raised close to $35,000 for the conservation of Wind Cave National Park's bison herd. The funding has provided ten GPS radio collars that will help park biologists' better understand movement patterns of female bison.
Recently, BHPFA had a unique opportunity to collaborate with The Nature Conservancy and Charley Harper Studios to benefit the Adopt-A-Bison program. Inspired by Wind Cave National Park's bison herd, Charley Harper Studios generously donated a special edition, never released Charley Harper print "American Bison" to raise funds for the program. The prints cost $150 and come with a certificate of authenticity. Proceeds from the print go directly into the Adopt-A-Bison fund.
"This was such an exciting project to work on and is a perfect partnership for BHPFA. We are honored to present this rarely seen Charley Harper image to the public for the benefit of this unique bison herd," states BHPFA Director Patty Ressler. BHPFA is proud to partner with Wind Cave National Park and The Nature Conservancy in supporting the conservation and genetic diversity of their bison.